Office Space in Edificio ETower Rua Funchal 418 Vila Olimpia
Regus | Sao Paulo | | Ref 9065
Call us on +1 646 403 3033 for Pricing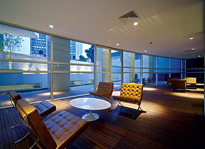 5
About the space
Defined as one of the top buildings in São Paulo, and the best one at Vila Olimpia's area, E-Tower is located in a new, fast growing region of the city. It has 99 workstation and 2 meeting rooms. Next to the best shopping mall and theater of the city (Via Funchal). Also next to important residencial area, and important avenues.
The view is a show by it self. At the 35th floor, you can see all of São Paulo, including Congonhas airport, Pinheiros river, all the most important avenues of the area and even Jaraguá Peak, which is the highest point of the city.
Here we have a full equiped gym at the 37th floor and an olympic pool at the 36th floor, sharing the view you will have from your office. High level restaurants are also available at the 37th and 19th floors.
Access to the area is very easy, considering all main avenues are nearby. Nearest airport is only 7 Km away.There is also a Helicopter base at the top of the building. Main Banks and hotels are close, as well as leisure facilities, considering shopping – Daslu -, restaurants, movies and parks.
Regus E-Tower provides high level furnitured offices, with spectacular view of the city and all services you may need, such as parking, 24 hr security, reception and telephone answering services, and any other services you may have, at the top of the best area in São Paulo.
Transport Facilities: There are several buses lines coming from Paulista, 9 de Julho and Rebouças Avenues. Vila Olímpia train station is located nearby.
Facilities